From the world of giant Hostas.
Indiana, State of the Giant Hostas
Written by jeroen Linneman and Translated by Jacqueline Dragt.
At the study-meeting of the Dutch Hosta Society in March this year (2008) I held a lecture on giant Hostas and in particular the search I made for them in summer 2007 in America. I made a Hosta trip in 2007 together with Rod Kuenster through the states Iowa and Indiana.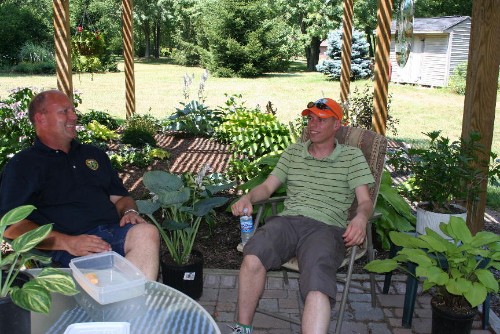 Rod Kuenster (left) and Jeroen Linneman orange cap (right).
All of this started because of two pictures on the internet that had been intrigueing me for a couple of years now. One picture is an old grey picture from some years ago of a Hosta 'Tom Rex' and the other one………. of a lady behind a wheelbarrow loaded with a giant of a hosta kept me awake for nights...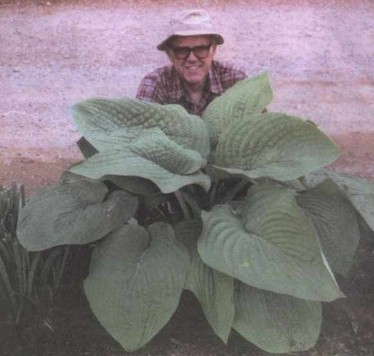 Especially the latter in the wheelbarrow was way-out as it was part striped! I also noticed the seedpods; so this humonguous streaker was fertile as well. As a hosta breeder, what more could one wish for. A dream Hosta!!!!!!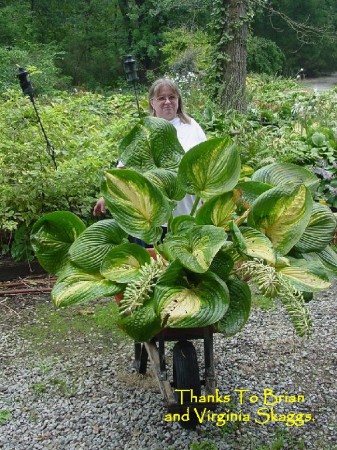 AI already brought Hosta 'Tom Rex' (D&J Ward 1999) with me from Van Wade in Ohio on my America trip in 2005 . This hosta 'Tom Rex' was bred from Hosta montana f. Macrophylla x 'Big John' ( two large leafed varieties).
My 'Tom Rex' formed a nice big clump already in my garden with indeed very large leaves (picture) . A real Giant and also a beauty. I measured a leaf of my 'Tom Rex' last season and found it to be impressive 43 cm! (the books say it can grow up to 46 cm), so we still have some growing to do.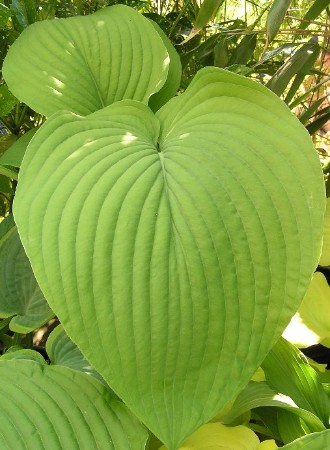 My own T-Rex in Hosta Valley.
This wasn't the largest leaf in my Hosta Valley collection measured last summer...That would be Hosta 'Arch Duke'with a leaflenght of 48! cm. Though I have to add that the leaf of 'Arch Duke' is a lot narrower than that of Tom rex, so in leafsurface it's not the largest. (according to the books Arch Duke can even measure 50 cm!)
Hosta 'Arch Duke' , for the people who are not familiar with it, is a hypoleuca hybrid (hypoleuca x 'Cartwheels' by Ran Lydell, 2000) sporting huge greygreen leaves with a white back. This latter feature is what the hosta hypoleuca is known for.
An other hosta with hypoleuca genes and large leaves that thrives in my collction is hosta 'Kiwi Hippo' (see picture and desciption in Hostablad 38) . It's leaves were 39 cm long this summer...nothing wrong with that I would think!
But Ok, we were talking about giant hosta's with even larger leaves. Yes, they exist! Even bigger than the 'Tom Rex leaf, a leaf longer than 50 cm. So, on to Brian and Virginia Skaggs, where of course Hosta 'Empress Wu' also comes into view.
'Empress Wu' is a Hosta that got it's fame through the internet during the last couple of years. Not many people have actually seen one or have one in their collection. Only a handful of people do. So what kind of hosta is Hosta 'Empress Wu'?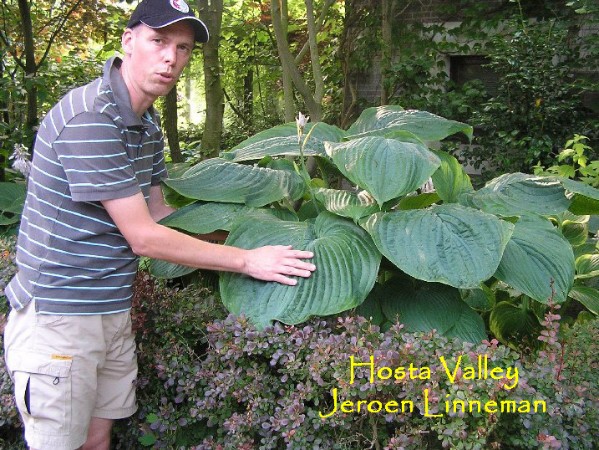 Here am I standing next to the Original stock Empress Wu plant from the Belgium Hosta collector Danny van Eechaute in Deinze, Belgium (Europe)
The Empress Wu is a (selected) seedling of Hosta 'Big John' (Clarence Owens, 1986) with enormous leaves. Danny van Eschaute from Belgium measured last year (2007) a leaf of 61 cm.!!! lenght on his own 'Empress Wu' which would mean a new worldrecord. The record is held by a leaf of the original Hosta 'Big John' (parents of 'Empress Wu') at 53 cm, measured by Mark Zilis in Clarence Owens' garden in Jackson, Michigan (USA).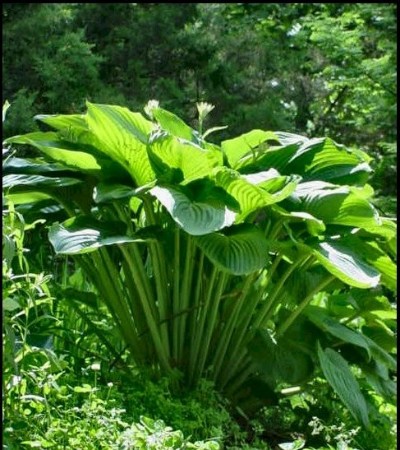 Hosta 'Empress Wu'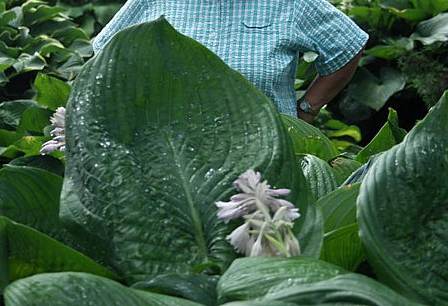 Mark Zilis is the writer of the well known "Hosta Handbook". The bible for hosta lovers we all have heard of.
For this book he has taken the measurements of over 5000 different hosta leaves with the 'Big John' leaf as largest. Now 'Empress Wu' is the largest Hosta in the world. She was intoduced by breeders couple Brian and Virginia Skaggs from Lowell, Indiana.
In this area of the state of Indiana also live Olga Petryszyn (see other article on Hostavalley.eu), Indiana Bob (known for his big yellow leaved introductions) and Bev and Dave Stegeman (Known for Hosta 'Skylight'). A remarkable amount of hosta breeders in the middle of America, the state of Indiana. That is why I've chosen the title: "Indiana, the state of the Giants...."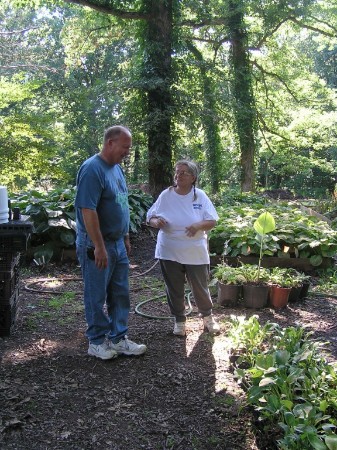 Rod Kuenster talking to Virginia Skaggs.
Back to this Hosta 'Empress Wu', at first she was named hosta 'Xanadu Empres Wu' but for commercial reasons changed to 'Empress Wu' by Brian and Virginia Skaggs.
This year the Empress will be available through tissue culture, after years of longing and waiting. So time for us to buy a real Hosta 'Empress Wu' for in our garden….
During my great visit to Brian and Virginia Skaggs I came along another Giant Hosta. This supergiant in the garden of Brian and Virginia is Hosta 'Amos'. Not one of their introductions, but they are among the few people who have an OS plant in their collection.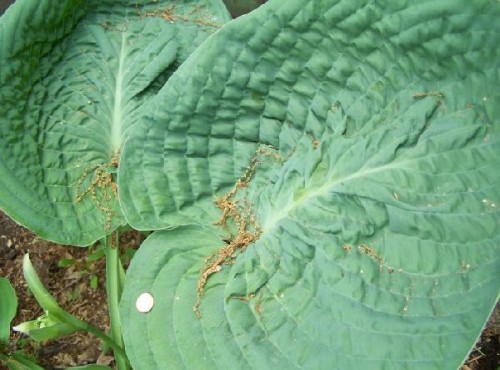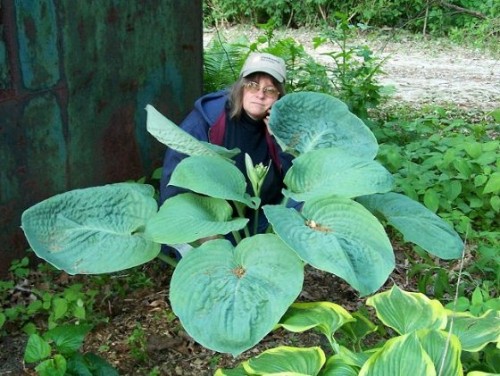 Hosta 'Amos' also a giant blue leaf hosta.
Hosta 'Amos' is originally a seedling (probably also 'Big John') and sold from Olga Petryszyn to Dan Cauffman from Chesterton, Indiana, who now is the proud owner.
Another monstrous hosta...a kind of super sieboldiana 'Elegans'. See both pictures they leave nothing to chance..
And lastly I came to Brian and Virginia Skaggs for the hosta in the wheelbarrow, the original Hosta 'Big Kahuna'. This 'Big Kahuna' is probably the largest variegated hosta at this moment. And we are talking a stable type...The unstable, streaked variety is called 'Bev and Dave', after Bev and Dave Stegeman, who gave them the seedling that grew to be this plant. Later on the stable variety grew in Brian and Virginia's garden as 'Big Kahuna'.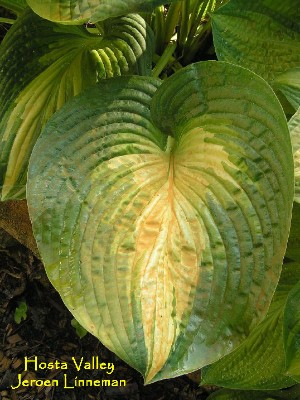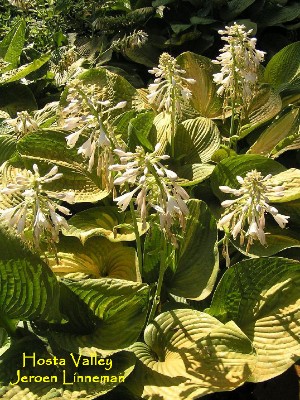 Hosta 'Big Kahuna', Maybe the biggest variegated Hosta around.
On my visit to Brian and Virgiana in 2007 they told me that sadly there were not many divisions left of this Hosta 'Bev and Dave', So it was not possible to take a plant of this breeder with me home.
But Brian and Virginia where so very kind to give me some seedlings from giant hosta's like 'Amos' and a couple of streaked seedlings of Hosta 'Bev and Dave' amongst which a streaked seedling of 'Bev and Dave'x ('Empress Wu' sister seedling)!!! Well this might be bigger than 'Big Kahuna' himself. They are now growing well in my Hosta Valley garden.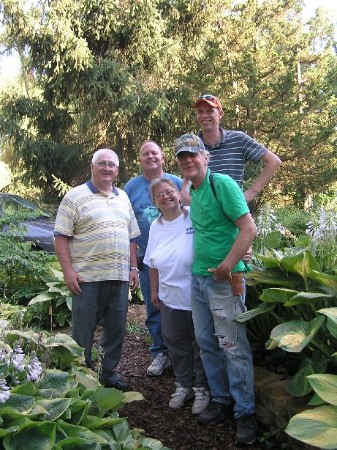 This picture is from summer 2007 with Dave Stegeman (left), Rod Kuenster (back, blue shirt), in front Brian en Virginia Skaggs en Jeroen Linneman (with Orange cap)
I'm very happy with those plants and very thankful to these great Hosta people. When I came home later after this big Hosta America trip. The first thing I did was that I bought a wheelbarrow and get my camera ready....
Because maybe, one day, I can get a picture like that from my own plant...
Thanks to Brian and Virginia, Bev and Dave Stegeman and Rod Kuenster for a lovely visit.
Pictures with this article were made by Brian and Virginia Skaggs and Jeroen Linneman.