Olga Petryszyn, the Hosta lady….(1)
By Jeroen Linneman (Translated by Jacqueline Dragt, april 2008)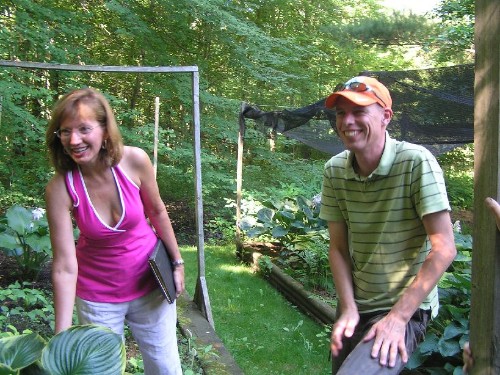 Olga Petryszyn with Jeroen Linneman
Last summer I had the privilige to travel to America for the second time in my life to take a look at the Hosta-world from the other side of the globe. I had already been there in 2005 with the Dutch Hosta Society on a trip with a whole group, but one of my whishes was to return within two years to visit one of the Hosta areas (the USA) by myself. Rod Kuenster of Iowa City was my travel guide.
I wanted to meet some of the Hosta-breeders in person and establish a more person-to-person contact and talk to them.
As I have been in contact with some Hosta freaks from America through e-mail and internet for many years, the plan was already there to visit the two parts of America where the most Hosta-breeders live, the middle and the east.
In 2005 we visited Ohio and Michigan as a group from the Dutch Hosta Society and we attended a hosta convention in Cleveland (Ohio) . It would be great fun to visit other parts this time and on recommandation of Marco Fransen I also planned to visit the Midwest Convention in Davenport (Iowa).
The privat Hosta collection in Olga's garden.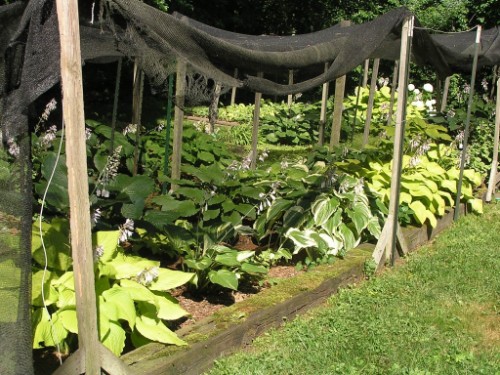 So the plan was going to be as follows: to spend one week near Chicago and then on to Iowa plus the attending of the Midwest Convention in Davenport. The second week I would fly from Davenport to Hartford (North-west of New York) to fill the next 8 days with hosta-hosta-and more hosta
At the start of july, the first weekend of the school summerholidays the time came that I was on the KLM Amsterdam-Chicago flight...After an eight hour flight and a lot of hours of extra security checks by the American customs (All for our safety..I don't have to explain this to people who are frequent visitors to the USA), I was met by my American Hosta friend Rod Kuenster.
Bev and Dave Stegeman were so kind to show us around the first three days of my trip. We immediately set off to a couple of addresses near Chicago, in Chesterton- east of Chicago-, where some excellent hosta-breeders live like: Bev and Dave Stegeman, Bob Balitewicz, Brian and Virginia Skaggs and Olga Petryszyn.
Olga Petryszyn's and her yellow Hosta 'Key West'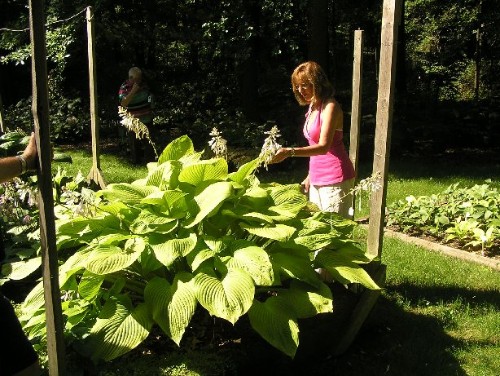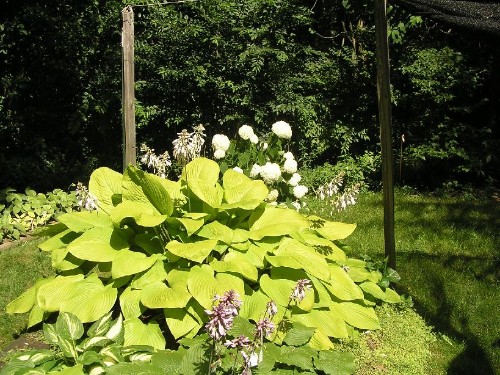 It is remarkable that in this part of America the hosta breeders mainly breed the large-leafed varieties. And when I say large....I really mean gigantic! A lot of the breeds intoduced by these people are among the largest know hosta's in the world.Olga Petryszyn is one of these top-breeders and is aptly nicknamed "The Hosta lady". She is an estate-agent and has breeding large hosta's with excellent qualities as her hobby. She's been doing this since 1986 and she is a huge fan of Bill Brincka who was her mentor. A lot of her Hosta-children will only reach registration after 6 to 10 years of evaluating and will be marketed with use of tissue cultures.
Ze works slowly and meticulously, we noticed that during our whole stay at her place and in all our talks. A real trooper!Most people will know some of Olga's hosta's , they bare names as: 'Manhattan', 'Niagara Falls', 'Old Faithfull', 'Dawn's Early Light', 'Mississippi Delta' etc. All of them already established hosta-introductions in the hosta world.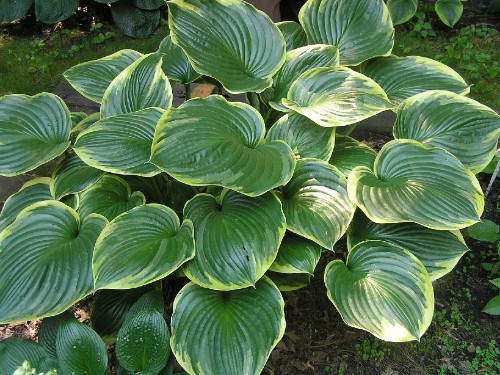 Hosta 'All that Jazz'
Once upon a time they were all standing in the gardens surrounding her place. House and garden border on a nature reserve and she had to move by the end of the year...that meant moving the hosta collection as well.She told us she was not able to do this by herself and had called in the help of other hosta lovers. As a reward for their help in digging up the motherplants they would get a piece from the plant to grow in their own garden as Original Stock. Too bad this would take place in october and I would be long home in Holland....It would have been worth it to help her out.
A couple of Hosta's impressed me, one of them being Hosta 'Key West', a large leafed, yellow hosta. And as I saw it: the largest in its kind. Very impressive indeed, this hosta is a result of 'Elatior'x 'High Noon'. I really recommend it and it is available in Holland.
Hosta 'Brother Stefan' one of the largest variegated cultivars in her garden is a new introduction named after Olga's brother and given to him as a birthday present. A hosta carrying your own name...I think that is a great present.
Hosta

'Brother Stefan' -'King Tut' x (x 'Mildred Saever')- is available in Holland since last year.
I bought one at home and have no doubt it will grow to be as big as the one in Olga's garden. A gem, really recommended
Olga and Hosta 'The Bold and the Beautiful'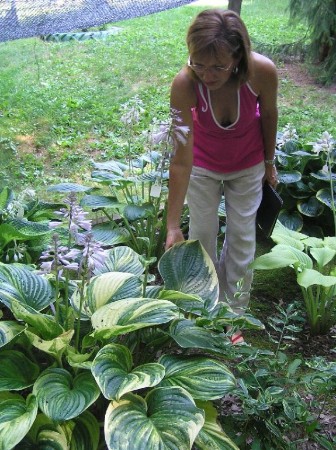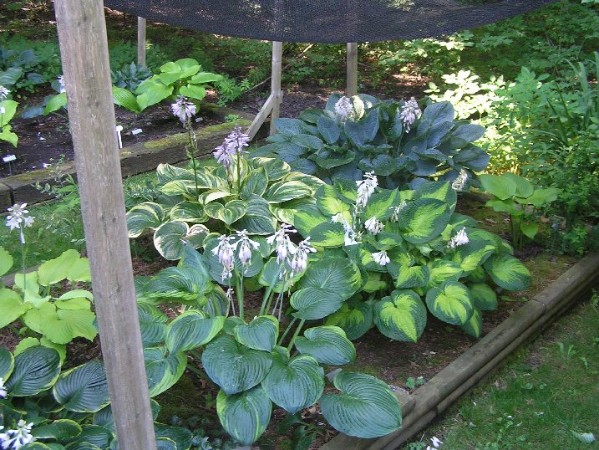 Of course Olga has loads of seedlings she is monitoring for the next couple of years. One sticking out the most was Hosta 'Gotham', a large hosta with large leaves and really tough (and I mean Tough) as old boots....you could rest your can of beer on a leaf if you put the plant on your patio.
This Hosta 'Gotham' impressed me a lot but it will be some years before it will be on the market. Too bad, I would have liked to own one NOW.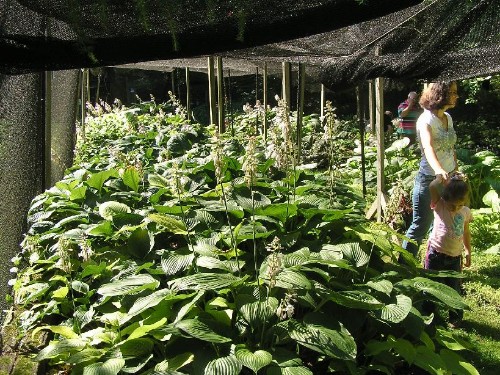 Hosta

'Gotham' came from Hosta 'Great Plains' x 'Sea Prize' OP seedling.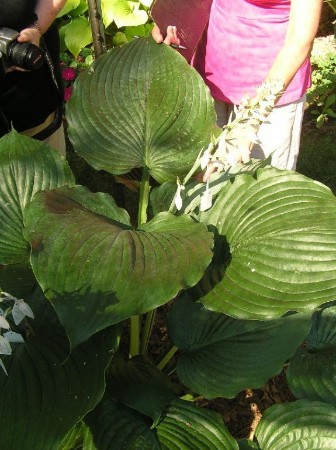 Bev Stegeman (left) and Olga Petryszyn with

Hosta 'Gotham'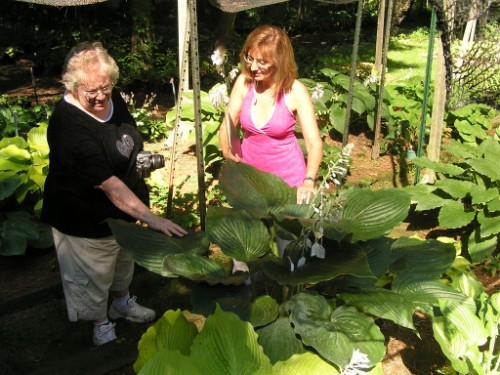 Eventually it was time to say goodbye, we had another hosta visit planned. Olga offered me a hosta from het collection as a gift plant. Of course I tried to get a Gotham...knowing it wouldn't leave her garden anyway.
In the end I chose Hosta 'Great Plains'. This hosta was never grown in tissue culture and thus rare! I got a very specimen OS and I do hope it will fit in my suitcase.
Olga Petrys
zyn's Gift Hosta to me, Hosta 'Great Plains'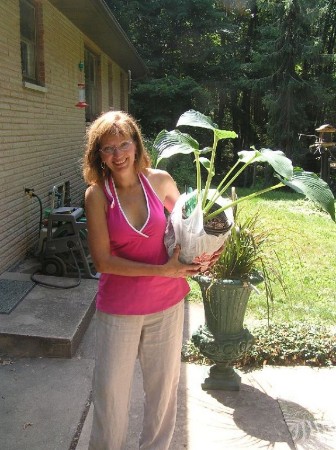 It is good thing to know Hosta 'Great Plains' is the mother of Hosta 'Gotham'...if you can't get the gotham, a piece of his motherplant will do just fine!
Thanks Olga, Rod Kuenster, Bev and Dave Stegeman for a great day.
(from: Hostablad 38, fall 2007. This is the HostaJournal of the Dutch Hosta society)
Translated by Jacqueline Dragt, april 2008